Seattle Fishing Charters ★ All Star Fishing Charters
Fishing Puget Sound's Migratory Cycles since 1968
Washington Steelhead Fishing
The Steelhead, a seagoing rainbow trout, is one of the regions favorite sport fish because of their strength and fiery response when taking a hook, Washington Steelhead Fishing ranks as one of the great fishing experiences in the continental United States.
Washington Steelhead will vary in size, those that return from the Pacific ocean after two or three years to spawn in their native rivers will typically range from about five to fourteen pounds. But the true prizes, and those that make Washington Steelhead Fishing experiences second to none, are the latent fish who will often spend four to six years at sea before returning home. These trophy fish can weigh as much as 25 pounds or more (thirty pound fish are not unheard of).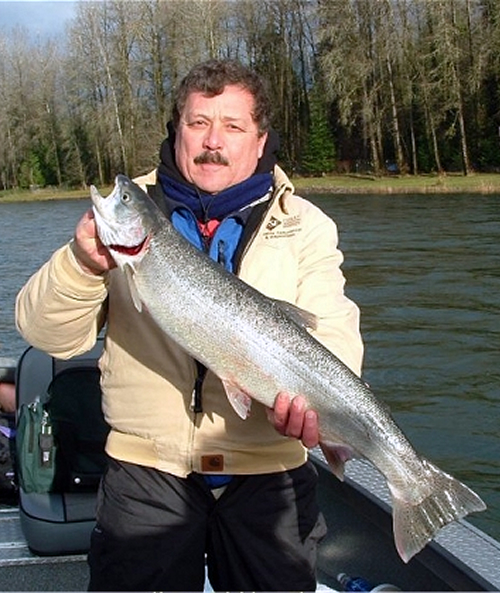 Washington Steelhead Fishing is one of the regions favorite sport fish because of their strength and fiery response when taking a hook.
Steelhead vs Rainbow Trout
There are no major physical differences between rainbow trout and steelhead, though the steelhead does tend to be a bit more slender and streamline than the Rainbow. From an appearance standpoint they sport colors that are similar to that of the rainbow: a blue-green back with black spots that also appear on the tail. The "rainbow" coloring tends to give way to a more silvery color once the fish migrates to the open ocean, but the dazzling display of the Steelhead when it returns to its freshwater spawning ground never ceases to earn admiration.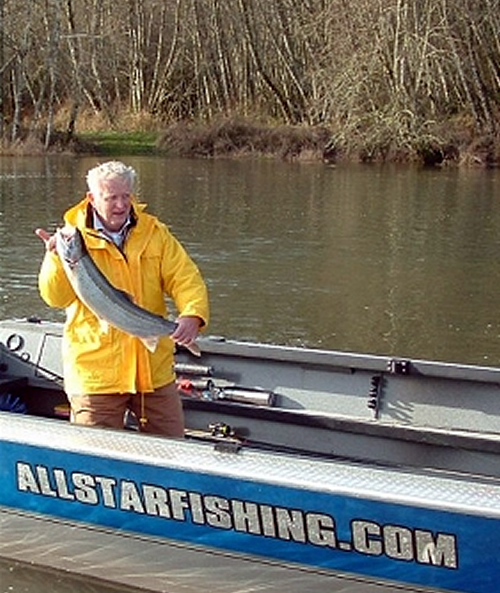 Washington Steelhead Fishing is characterized by the incredibly soft strike followed by sheer pandemonium as the battle of wits pits angler against angry steelhead.
Steelhead Survival Rates
It is in the lifecycle of the Washington Steelhead that the true differentiation is made. Compared to the relatively placid life of the freshwater trout, the Washington Steelhead faces a host of challenges and obstacles throughout its trek to the open ocean and back. In fact for every 100 of the steelhead smolt that are able to reach the open ocean at the end of their journey through their native freshwater streams and rivers, only five to ten will survive to return to spawn, the rest succumbing to predators or other innate hazards of a long and arduous journey.
Washington Winter Steelhead Fishing
When it comes to Washington Steelhead Fishing, the winter steelhead favor good areas of holding water in which to rest during their run up river to their spawning grounds, and this docility can be somewhat perplexing for an angler in search of them. An angler has to develop something of a sixth sense in order to detect and respond to the incredibly soft strike that characterizes many of the winter run fish.
Washington Summer Steelhead Fishing
Summer run steelhead on the other hand stay in the river itself longer, often through the fall and early winter before moving on to their spawning grounds. As a result the summer run fish are much more active and can provide an exhilarating and challenging adversary after their wicked strikes are followed by their spectacular signature runs. Few who feel that strike followed by the pole being bent over by one of these powerful fish will be able to resist the need to return to face the thrill of Washington Steelhead Fishing again and again.
Washington Steelhead Fishing Guide
All Star Fishing Charters is proud to put the talents of master guide Nick Kester at your disposal for an exciting day of Washington Steelhead fishing. Let Nick put his years of experience to work for you allowing you to relax and enjoy an action packed day that will be remembered for years to come.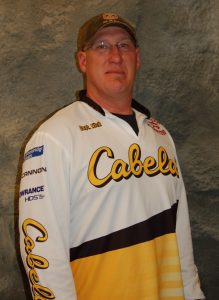 Washington Steelhead Fishing Guide Nick Kester's years of experience allows you to have a relaxing and enjoyable action packed Washington steelhead fishing day.