Seattle Fishing Charters ★ All Star Fishing Charters
Fishing Puget Sound's Migratory Cycles since 1968
As a fiery sun rises behind the shoulder of towering Mount Baker and salmon beckon from Possession Bar, Point No Point, Double Bluff, and other top fishing hot spots in north Puget Sound come join us for some Washington fishing with All Star's Washington Fishing Charter.
Washington Fishing Charter
Have only a couple of days in the Seattle area and want an authentic taste of the Washington fishing lifestyle? All Stars' Washington Fishing Charter will put you into salmon with the finest Washington fishing guides the area has to offer. Want to do battle with a Washington King Salmon, an acrobatic Washington Coho Salmon or any of the other three species of Washington Salmon? Washington's fishing charter of choice is All Star's Washington Fishing Charter.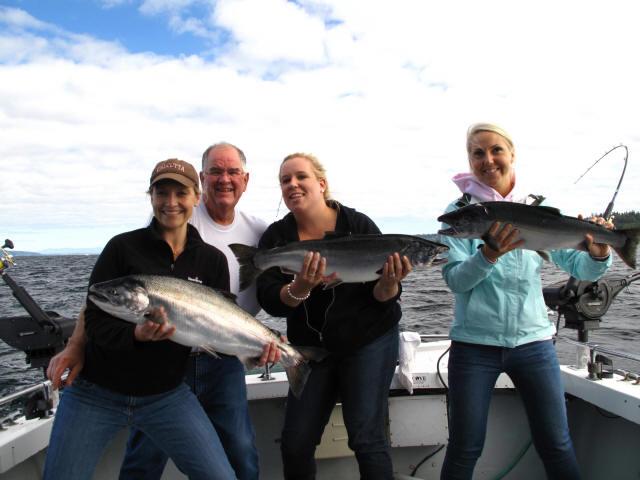 Capt Gary having fun with 3 smiling ladies on their Washington Fishing Charter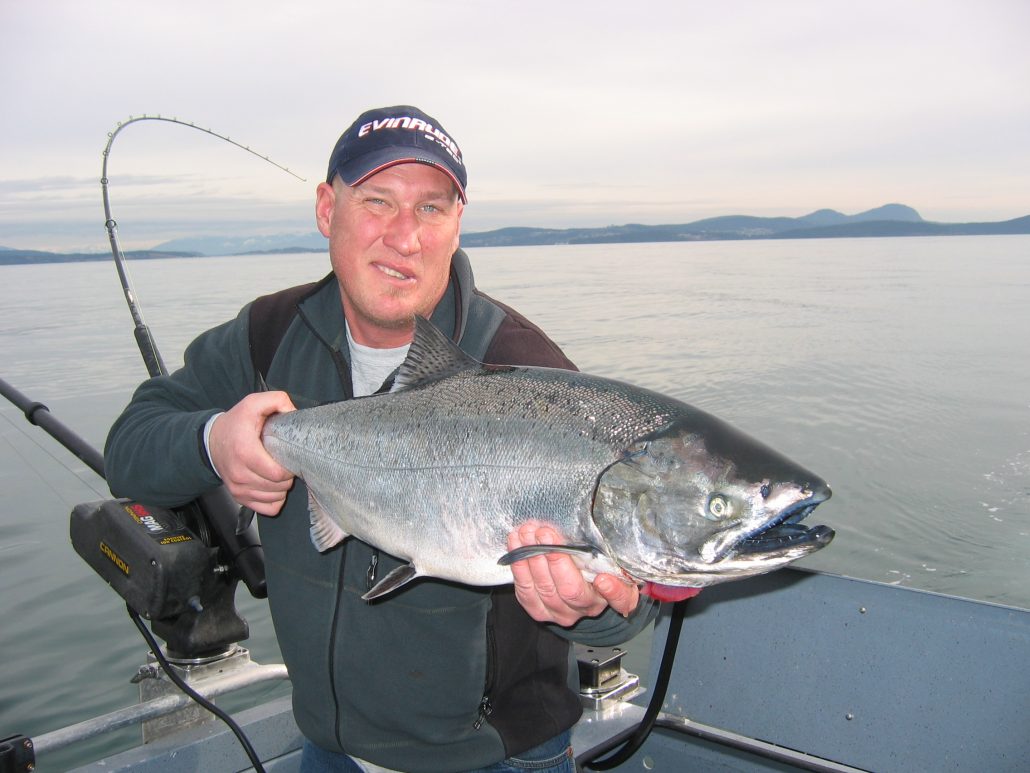 All Star Charters Captains legendary knowledge of Puget Sound salmon, ling cod and bottom fishing will insure that your trip is complimented by the skill of the regions finest guide.
Are you a family group looking for a Washington fishing guide? All Stars' Washington Fishing Charters are patient with young people, women, and other novice anglers, without being condescending. We'll make sure you learn the craft, quickly, and then leave you alone to catch your own fish and make your own mistakes. No one – skipper or deckhand – catches your fish for you on our Washington fishing charter boats.
Washington Fishing 101
Want to learn about the popular fishing lures, fishing "Hot Spots" and Special fishing techniques to catch Washington Salmon? All Stars' Washington Fishing Charters is the best teacher of "Washington Salmon fishing 101"
North Puget Sound offers Washington Salmon fishing almost year round. When the area is closed for Washington salmon fishing there is a great Washington fishing opportunity for lingcod fishing. Talk about your special fishing techniques these ugly critters require years of local fishing knowledge fishing these Washington waters.
Washington Fishing Action
There's always some type of exciting action going on with Washington fishing in Washington's north Puget Sound, from heavyweight Washington king salmon which will pull you out of your shoes, if you let 'em; through silver-bright, acrobatic Washington Coho and hordes of smallish but accommodating Washington pinks; to ugly, toothy, but oh so good on the table Washington lingcod.
When a long day filled with the scent of seaweed and salt spray, bent rods and shouts of excitement is over, our Washington fishing charter sends you on your way with bags of beautiful Washington fillets, or fish in the round, your choice, and a warm promise to "do it again next year." Better sign up for your Washington fishing charter, before your spot is taken.
Washington fishing charter, Washington fishing guides for Salmon and ling cod on Puget Sound in Washington State.